You Have a Story, We Want to Tell It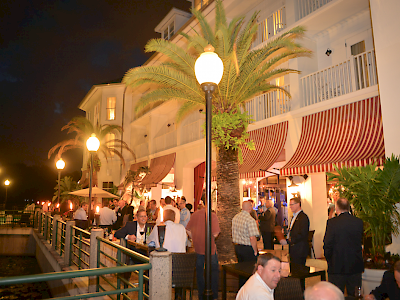 The Dark Fiber Community (DFC) is growing week after week, and it has a lot to do with our well-established list of members. When the community first launched, we dreamt of attracting the members we have today—the ones who make events like the inaugural DFC social not only a success but a pleasure to attend.
The accomplishments of our community are largely due to the growing ubiquity of our market. After all, the annual growth rate for the Internet service provider industry of 10.9 percent over the last five years is expected to continue in the five years to come, according to independent research firm IBISWorld.
To help spread the word about the work being done in the infrastructure industry, we want to start profiling our community members. You all have a story to tell, whether it's about your predictions for the industry, your customer wins or the achievements you've enjoyed thanks to your DFC participation.
Do you have a story you want to share? Are you limited, however, when it comes to the time or resources necessary to get your story heard—that is, outside of the few anecdotes dished out each year when we can get together, like we did at the social?
Here at DFC, we don't want another story to go untold. Let us help you get the word out about your business, what you've done and what you're doing. Here's how you can lean on us:
Partner up: The DFC is all about partnerships. Whether you would like to connect to a dark fiber provider or an infrastructure builder, this community can connect you with colleagues in the space. Just as we bring resources in this industry together, we want to connect you with our media partner to help spread the word about your brand. Team with writers who have worked in journalism, media and communications to bring your company—and its story—front and center. Come with ideas and we will get them down on paper.
Be heard: As a business leader, being social is a big part of your day-to-day life. Whether you're at conferences or business meetings, you likely focus on forging relationships and sharing critical insights. Telling a story should be just as easy, and often times it is—that is, until you sit down and are confronted with a blank page. So let us handle the heavy lifting for you. Our creative team can make your stories as formal or informal as you like. They can be covered creatively or journalistically. They can be long or short. Share your vision so it can be realized.
Build on your brand: One of the reasons why the DFC is so successful is that it is a one-stop-shop for industry needs. And part of that commitment means building out extensive member profiles so people can navigate our resources quickly. A prime way to build your DFC community brand is to share your company's story. Doing so will give other members a glimpse into who you are as a potential future partner.
The community was established as a go-to resource for the infrastructure industry, and that has turned us into a tight-knit community. Let's build on that foundation by sharing our stories today.
To schedule a time to be interviewed for your DFC story, please reach out to me directly at lauren.sauer@darkfibercommunity.com.